German genealogy (Genealogie) has in Erfurt / Prussia / Saxony, the Capital of the province Thuringia (Thüringen) of Germany, an important genealogical research basis. Erfurt City possesses important sacred and secular archives of ancestry. It is within easy reach for tourists, who are traveling in their ancestors' footsteps. Erfurt is a real picture book of ancestral history. Erfurt's Archives' mediaeval documents and church registers on genealogy are great. Very often Erfurt's genealogists resp. genealogy consultants helped clients resp. customers from all over the world to bring their genealogical projects as well other researches forward, not only in Erfurt / Prussia / Saxony and Thuringia but throughout Germany.


Your ancestors came from Germany a long, long time ago. You want to uncover their roots and / or you want to book a sightseeing tour in your ancestors' footsteps in Thuringia or throughout Germany!?

Is there any other research you would like done in Germany?

Simply click the contact button above and ask for an offer.
We will give you a call in order to find the best solution for your Project.

pictures - left: Erfurt's land mark Cathedral St. Mary and Severi Church, right: Wartburg Castle near Eisenach City

To your attention:
For Lack of Capacity Mr. Volland is no more able to manage all projects himself.
Therefore he will eventually forward your requests to a highly knowledgeable collaborator.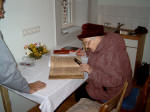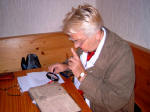 pictures: Mrs. H. B.┼ - a specialist - researching in church registers which documents date back into the early 17th century.
left: in winter time; right: in summer time

Click the minipictures to get a full size view.





Sie sind Europäer und möchten mit Nachkommen ausgewanderter Familienmitglieder Kontakt aufnehmen,
wissen aber deren Adressen nicht mehr?
Sie haben ein ähnliches Problem?
Deshalb möchten Sie nachforschen lassen?

Klicken Sie einfach hier und fragen Sie nach einem Angebot.
Wir rufen Sie an, um mit Ihnen über Lösungsmöglichkeiten zu sprechen.


Die Genealogie Deutschlands (genealogy) verfügt in Erfurt über wichtige Grundlagen zur Familienforschung (family research). Erfurter Archive besitzen einen reichen Fundus überlieferter Urkunden und Schriften zurück bis in die Zeit Kaiser Karls des Großen. Schon oft gelang es den Erfurter Genealogen (genealogist, genealogy consultant), Leuten aus aller Welt, nicht nur bei ihrer Familienforschung, sowie anderen Forschungen in Erfurt und Thüringen - sondern in ganz Deutschland, zum Erfolg zu verhelfen.